Professional Painting Tools
Purdy 2023 Mentor of the Year Update
Purdy has crowned the two winners of 2023's Mentor of the Year competition. Glen Galbraith from Doncaster College was awarded the College Lecturer Mentor of the Year, while James Reeve of Royal Spa Decoration, based in Leamington Spa, was awarded the Painter and Decorator Mentor of the Year.
Glen Galbraith, Doncaster College - winner of College Lecturer Mentor of the Year 2023
Impressively, Glen was nominated by eight of his students, who see his long career in the industry running his own business as a real inspiration. His ability to clearly explain a task, and make it relatable to working on site, helps to instil high standards in his students. There was also a strong consensus that Glen goes above and beyond in his teaching duties to help his students both at college and on site, with his approachable nature key to getting the very best out of them all.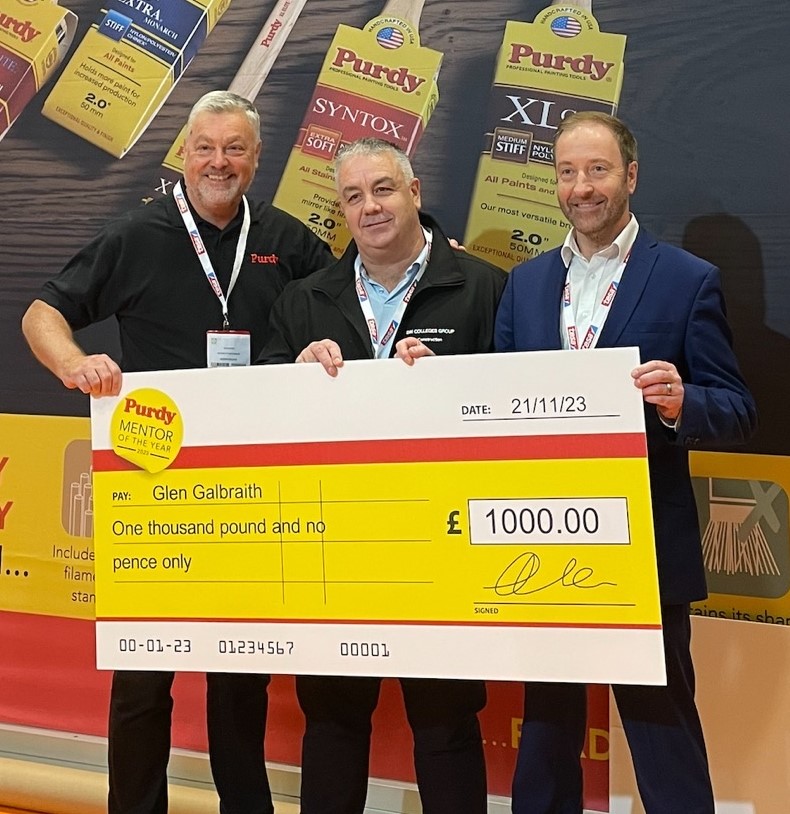 "It means so much to me to win Purdy Mentor of the Year, it's the culmination of a lot of hard work and graft, a lot of it unpaid, that we do to help people learn."
James Reeve, Royal Spa Decoration - winner of the Painter and Decorator Mentor of the Year 2023
Nominated by two of his employees, James' strong work ethic and obvious desire to be the very best is incredibly inspiring. His apprentices showed an immense pride in the company and the quality of its work and attributed its award-winning success to James' passion and high standards, which in turn motivates them.  Both apprentices feel they are top of their class at college, due to James' influence.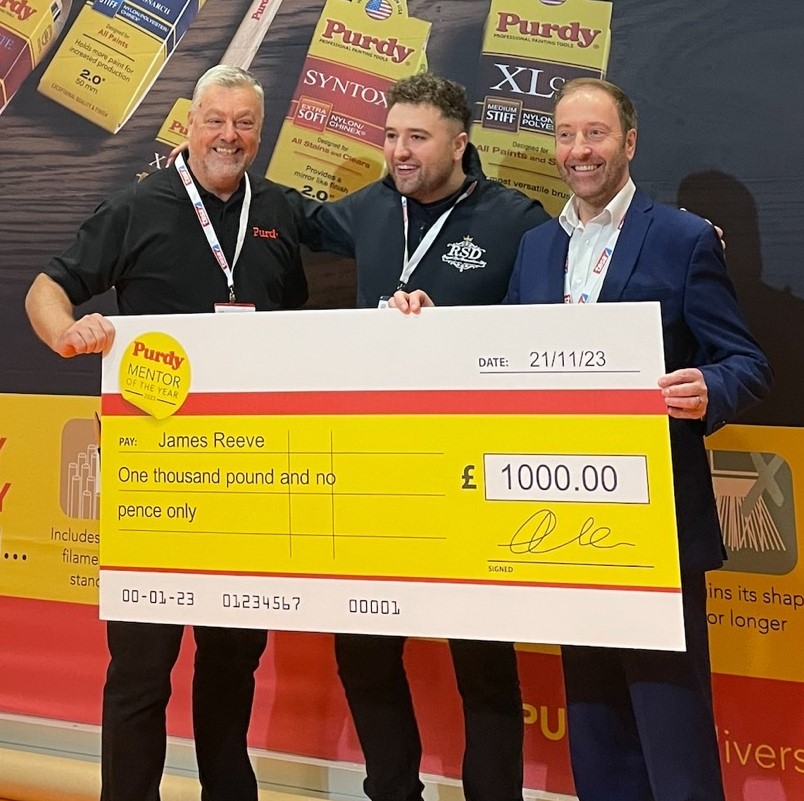 "It's really great to get any recognition in this line of work, I feel on top of the world so thank you to everyone who nominated me for the award and thanks to the organisers and judges."
Joe Love, North Kent College Gravesend - runner-up of the College Lecturer Mentor of the Year 2023
Joe's positive attitude shone through and within just three years it is obvious he has had a huge impact on his students due to his relatable personality, which makes learning fun. Joe was nominated by six of his students, with his strong work ethic an inspiration to them all.
Ben Byrne BLKC Decorators- runner-up of the Painter and Decorator Mentor of the Year 2023
Ben was nominated by Sophie Graham, who during her apprenticeship won Ron Simmons' Apprentice of the Year, Johnstones Apprentice of the Year and Student of the Year at City College in Construction, all of which she said wouldn't have been possible without Ben's unwavering support and technical guidance. His passion is infectious, motivating his staff to achieve the high quality standards he sets.
Megan Talbot, Accrington & Rossendale College - Special Recognition of Achievement Award 2023
Megan is a mentor at the college where she was once a student. With seven nominations, Megan is a real asset to the teaching team, working closely with students to hone their painting and decorating skills. 
 Entries for the Purdy Mentor of the Year 2024 competition will open on 1st April 2024, with a deadline for entry on 30th September 2024.