Professional Painting Tools
1925

Humble Beginnings

S. Desmond Purdy begins hand crafting paint brushes in a garage in Portland, Oregon.

1965

Nationwide Distribution

Purdy is officially sold coast to coast in all 50 states after 40 years.

2005

Sherwin-Williams Acquisition

Purdy joins the Sherwin-Williams family and evolves into a global supplier of applicator products.
How to Choose the Right Paint Brush
What is the best paint brush for your paint?
Purdy has spent many years with both professional painters and serious DIY painters, observing them and answering many questions. We have compiled the following painting tips and techniques to help meet your needs. However, please feel free to contact us directly with your individual question.
Which paint brush do I use for various types of paints?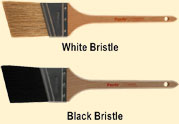 A natural bristle paint brush is made from animal hair, and is very soft and porous. For oil-based paints, most professionals choose a natural China-bristle (hog hair) paint brush.
If you are painting a smooth surface with oil-based paint, a natural White Bristle paint brush is your best choice because it is soft and supple. When painting a textured surface, a natural Black Bristle paint brush will work better, because it is stiffer and has superior abrasion wear. When you require an ultra-fine finish, a brush blended with ox hair is the best choice.
Synthetic filament - When your choice in coatings is water-based (frequently referred to as latex), it is absolutely essential that you select a synthetic filament paint brush. The Purdy synthetic filament range includes:
100% black nylon
100% dyed nylon
Nylon/polyester blend
100% Chinex® filament
Chinex/nylon blend
Chinex/polyester blend
Chinex/nylon/polyester blend
Brushes that include a blend of polyester, such as our XL™ Elite™ series and PRO-EXTRA® series maintain their bend and recovery (or flex) better than brushes made of 100 percent nylon. This characteristic enables an XL Elite or PRO-EXTRA professional paint brush to perform consistently well in warm, humid weather conditions.
When painting exclusively indoors under controlled climatic conditions, a 100 percent nylon paint brush is a great choice, because stiffness retention is not as critical a factor. Furthermore, 100 percent nylon filament allows the paint to release from the brush easier and flow more smoothly onto the working surface.
It is worth mentioning that Purdy synthetic filament paint brushes also perform exceedingly well in oil-based paints. This is due to the various processing and finishing steps in our manufacturing operation that soften the synthetic material and eliminate drag when used with oil-based paints.