Professional Painting Tools
What makes a good quality paint brush?
What makes a good quality paint brush?
Choosing the right tools can help you ensure a high-quality finish on every job. Here we run through what you should look for when buying new paint brushes.
27 October 2023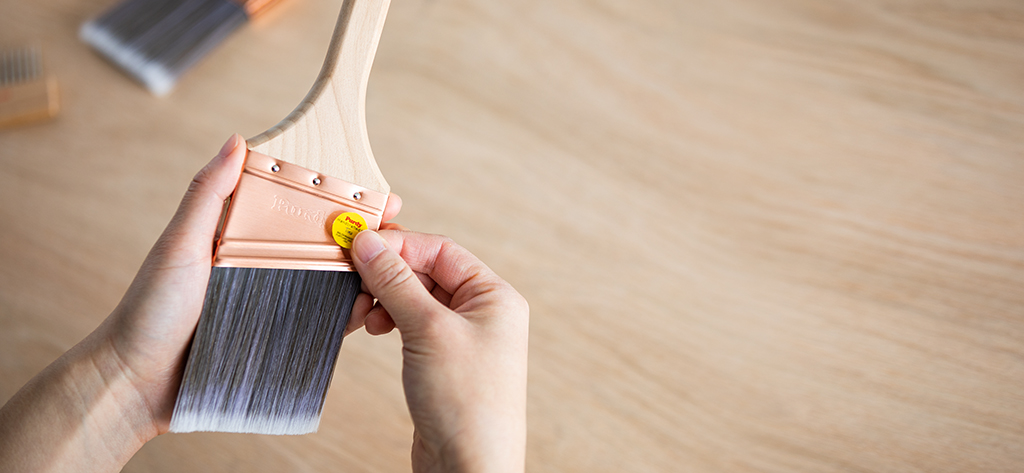 There are many elements that need to be considered when choosing a new addition to a painting and decorating kit. Any professional will understand that not all trade paint brushes are made equal and the quality of every component matters.
The filaments
The quality of the brush filaments makes all the difference when choosing professional paint brushes. At Purdy we always use solid round tapered (SRT) shaped filaments – known for their excellent bend recovery – made from a blend of polyester and nylon to simulate the performance of a natural bristle paint brush. Our filaments are also always 'tipped' and 'flagged' to give an extremely fine but split end that helps the brush to pick up and lay off more paint. Purdy brushes also self-flag throughout their life to maintain the best possible performance and have a no filament loss guarantee thanks to the bolstered epoxy we use to fix them in place.
Nevertheless, it is important to pick a brush with the right filaments for the job. The type of paint, desired finish and where it is being applied will all influence the choice. Thicker filaments will offer improved productivity by picking up and laying off more paint. For example, the Purdy Pro-Extra Monarch brush, ideal for use with oil-based paints, has longer and thicker filaments meaning it holds and lays off more paint than natural bristles and 30% more than any other Purdy paint brush. In contrast a paint brush with thinner filaments should be used with water-based paints for a smooth professional finish. Softer filaments, such as those in our Syntox brushes, are used to create a beautiful, mirror like finish when working with varnishes and stains.
The ferrule
You should also look at the quality and construction of the ferrule, the collar that holds the brush filaments in shape. Purdy uses only strong corrosion-resistant stainless steel or copper ferrules which are then attached to brush handles with three similarly corrosion-resistant, nickel-plated reinforced nails to prevent impact or rust damage.
The handle
The quality of the handle is all important as it will affect the comfort and control you have when using the brush. A wooden handle will often be more comfortable, especially when it is being used for extended periods of time. Purdy paint brushes feature high quality Alderwood handles for a lightweight, durable and manoeuvrable brush. Alderwood is also moisture wicking meaning it absorbs sweat for a more comfortable grip.
The design of the handle is also important, professional quality brushes will have different shaped handles depending on how the brush will be used. A long and thin 'rattail' handle allows you to hold the brush like a pencil for fine and precise control. A thick and rounded 'beavertail' shape is designed to fit comfortably in the palm of the hand while a 'short' handle will make work in tight spaces and hard to reach areas much easier.
Choosing high quality paint brushes will make your work easier, quicker and more comfortable while allowing you to achieve a professional finish. Each Purdy paint brush is hand-made by a skilled specialist brushmaker and features a sticker with their initials – a mark of pride in their work. 
Click here to find out more about our range. We also have a handy tool that will help you choose the right paint brush for the job.