Professional Painting Tools
Purdy Jumbo Mini Frame and Roller Selection: The Perfect Painting Tool for a Professional Finish
The Perfect Professional Finish - Purdy Jumbo Mini Frame and Roller Selection is the Versatile Choice
05 August 2015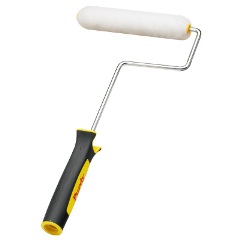 Professional Painting Tools
Achieving the perfect paint finish isn't always easy, but our new frame and roller range gets it right every time.
Ideal for tight, hard to reach areas, our 14-inch Jumbo Mini Frame offers a smooth rolling action, no matter what's being painted.
Highly versatile, it can be used with our new Purdy Powerlock Extension pole and fits Purdy 4 ½ and 6 ½ inch Jumbo Mini Roller sleeves, including the White Dove Jumbo and Colossus Jumbo options.
White Dove Jumbo achieves a smooth finish to walls. Lint-free, the product won't shed and the ¼ inch nap ensures application is even – creating a professional finish every time.
The Jumbo Colossus is well-suited to larger spaces. Its ½ inch nap allows for greater paint pick up and can cover large areas more quickly.
Speaking about the range, Research and Development Manager, Mick Bowler, said: "The Jumbo Mini Frame and the Jumbo Mini Roller Sleeves can be used together to create a complete decorating system, ensuring a smooth, perfect finish is achieved."
"These new products complement our existing range to meet all decorator requirements."