Professional Painting Tools
Introducing the new Revolution Frame
The Revolution Frame - New innovative design and the UK's lightest frame.
03 July 2015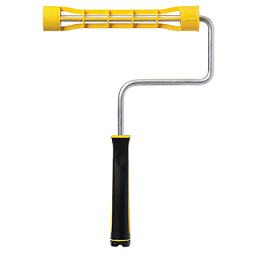 This year, we introduced the new Revolution Frame, an innovative piece of decorating kit that promises to make the job in-hand easier for professional painters and decorators.

Developed by our expert technical team, the 'cageless design' has just been launched into the market, offering comprehensive coverage that doesn't grey streak.

Its innovative, durable open cage structure means it will release paint easily – avoiding mess and making it easier to clean.

As the latest addition to our frame range, it's the UK's lightest frame. Compatible with the Powerlock Extension Pole, the revolutionary frame can be dismantled easily using the quick connect attachment, making it an efficient addition to a decorating kit.

Add the Purdy Marathon Roller Cover, formulated with a blend of nylon and polyester fabric, for a perfect finish on interior and exterior walls.

Boasting excellent paint pick up and release, it won't shed fabric and is more durable than other covers, making it a cost-efficient for longer or larger jobs.
Speaking about the launch of the new frame, Marc Olding, Purdy Marketing Manager said: "We have a great reputation for delivering high-spec products that always deliver in terms of performance and efficiency. The Revolution Frame is a welcome addition to our professional range of hand-crafted brushes, frames and rollers, bringing great benefits for professional painters and decorators."