Professional Painting Tools
Why Purdy's handmade paintbrushes are the perfect professional choice
Why Purdy's brushes are the perfect professional choice
01 June 2015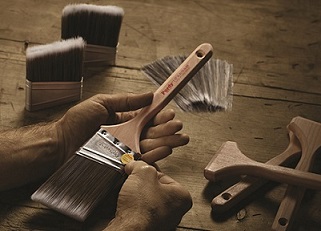 Here at Purdy, we continue to create the hand-crafted brushes that have become renowned for timeless, professional quality.
After almost 90 years, we have earnt a reputation as the creator of the world's most sought-after paintbrushes, in 2015 we still pride ourselves as the best in the business.
Created by craftsmen for craftsmen, each individual brush is fashioned from the finest raw materials and bears the signature of the person individually handcrafted it.
So whether it's tackling a decorating job in a commercial or residential property, or investing in tools to last a lifetime, a Purdy brush is guaranteed to deliver an expert finish.
The options are endless. Painting and Decorating professionals can take their pick of the Monarch Elite, Sprig, Syntox and Pro Extra Monarch. Whatever their preference, they'll get the best finish in water or oil based paints, and they're a tool that every painter should have.
And with new ranges we have launched this year, including new sleeves, a Powerlock extension pole system and Revolution frames – we continue to deliver a blend of traditional craftsmanship and modern materials.
Our Marketing Manager, Marc Olding says: "Here at Purdy we pride ourselves on being pioneers in our field, with an unwavering commitment to providing the very best brushes, sleeves and prep tools on the market. Our reputation speaks for itself – and we feel honoured to have such a loyal customer base."