Professional Painting Tools
A guide to Purdys Sleeves
A Guide to Purdy Professional Roller Sleeves
Here we've pulled together a quick guide to our sleeves.
08 September 2015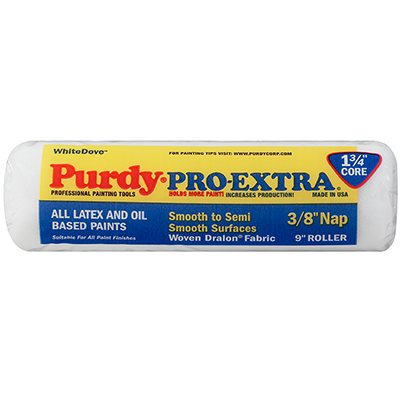 How to use the Colossus, Marathon and White Dove professional roller sleeves.
Here at Purdy we offer sleeves that give increased productivity and a smooth finish on any job. The woven covers allow for more paint pick-up and help reduce dripping and spatter - delivering an expert finish every time.
Ideal for big and small jobs, Colossus and White Dove are two sleeves that pro decorators should have in their toolbag.
For when you're short on time, the Colossus delivers a speedy finish, allowing pros to lay off the paint quickly. The sleeve offers greater pick up and release than other roller sleeves, which means less reloading and improved productivity.
The Colossus, ideal for ceilings and other larger jobs, is lightweight, durable and has tapered ends to avoid unsightly tram lines.
Available in 1 1/2" and 1 3/4" cores, the sleeve is suited for use with 9" - 18" frames, such as our Adjustable Frame 12" - 18", or Revolution 9" Frame
For smaller domestic jobs, White Dove leaves users with a perfectly smooth, lint free finish.Its quality nylon woven cover, leaves walls smooth and uniform, and reduces dripping and spatter when loading paint. Again, suitable for use with 9" - 18" frames, the White Dove is available in 1 1/2" and 1 3/4" polypropylene cores.
In terms of texture and finish, the below table provides a quick easy-to-follow guide to choosing the right piles sizes and Purdy roller sleeve.